THE PHILIPPINES ISLANDS | TRAVEL GUIDE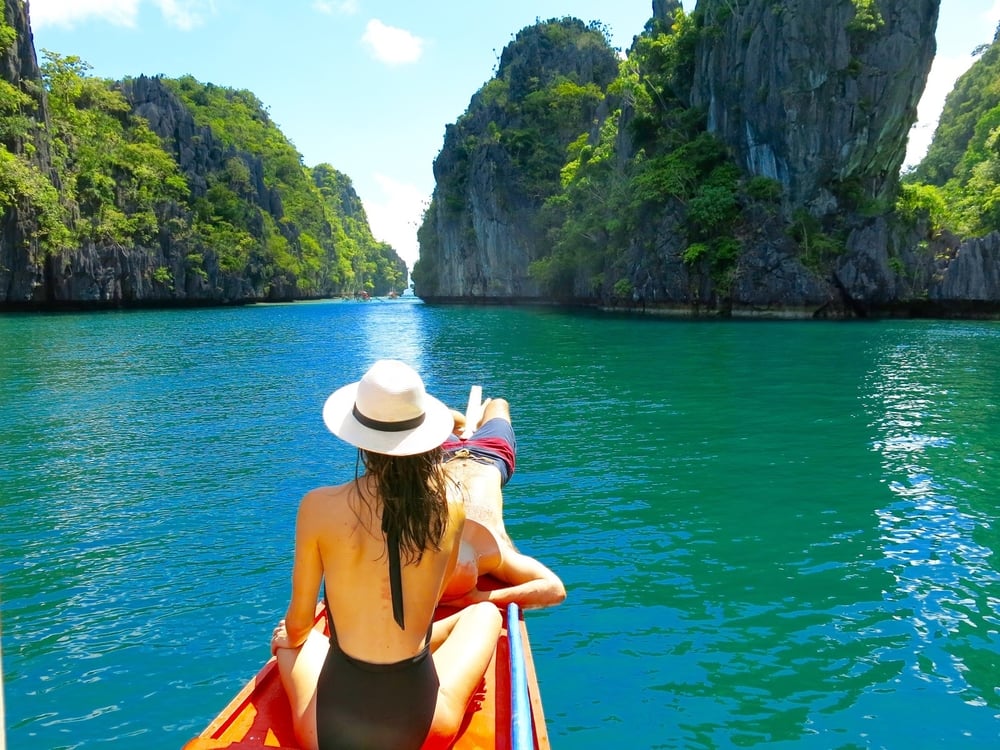 Language Tagalog/Filipino & English
Health considerations Hep A, Typhoid and Malaria
Time change +15 hours [if traveling from California]
Airport options Manila, Puerto Princesa, El Nido, Cebu
Visa: N/A
Our TRAVEL breakdown
SFO -> [14 hour flight via philippine air] > MANILA
MANILA -> [1 hr flight via cebu air] > PUERTO PRINCESA
PPS -> [bus 4 hours, boat 1 hr] > APULIT ISLAND
APULIT ISLAND -> [bus 2 hours] > EL NIDO
EL NIDO -> [sail 5 days via tao] > CORON
CORON -> [2 hr flight via cebu air]> CEBU
CEBU -> [2 hr flight via cebu air] > SIARGAO
palawan
Apulit Island
Along a private beach [and private island, really] this spot is a 50 minute boat ride from Palawan. Each beach bungalow has its own back porch/stairs to the water and is a perfect place to just relax.

There is a beach front restaurant/bar, pool, dive center, unlimited snorkeling, rock climbing, SUPing, cave exploring – and many more activities.
Filled with mountains and some of the bluest water i've ever seen. Through your hotel you can book a full day private boat tour [the private trip is only a few more dollars than the non-private, I 100% recommend spending a few extra $$]. We chose tour "A" and loved it, but if we'd had more days in El Nido we certainly would have tried a few more.
Stay @ El Nido Mahogany: this french inspired boutique hotel consists of 4 private villas and had some of the best most authentic breakfast + coffee. The beach bar next door is pretty perfect, too.
Drink @ La Plage: right next door to the hotel and the cutest coolest beach bar, ever.
Eat @ Altro've: if you go into town for dinner – delicious pizza and pasta, and a very fun atmosphere.
5 days, 4 nights sailing from El Nido to Coron [the trip also goes in the reverse direction, from Coron to El Nido].
The expedition combines stretches of pure sailing with time for exploring the islands, reefs and small villages along the way. During anchored-times you're able to dive off the boat to snorkel around coral reefs and WWII shipwrecks, search through caves, stroll along abandoned beaches, socialize with locals and explore small local fish markets. Each meal is prepared by the chef, who only uses fresh, local and organic ingredients.
With Tao, there's no set itinerary. Based on the ocean currents and weather our captain would decide where to take us and which base camps to stop at. We were completely off the grid with absolutely no connection to the rest of the world. At the end of each day we docked in one of the base-camps and cheers'd a rum pineapple drink served by the epic staff – the nights were spent fireside eating freshly cooked fish and cozying up in our beach huts. Read the blog post for our full experience.
CORON
Al Faro Hotel We loved our stay here. Friendly staff, good food, good drinks, gorgeous view, kayaks for rent, laundry service available – and a ton of options for day trips.

Diving Explore WWII sunken ships.

Black Island Might be a longer boat ride, but people say the crystal clear waters and the monstrosity of the island make it worth it.
Twin Lagoon Beautiful water colors and fun to swim/explore/kayak around the high rocks.
Mt. Tapyas A fun spot to get a little "work out" in [by way of many many stairs, and watch the sunset with a few cold beers. 360 views of the whole city.
Barracuda Lake Plenty of swimming, limestone cliff jumping, snorkeling and diving available here.
SIARGAO ISLAND
Dedon Island A huge splurge for our honeymoon, but 100% worth it if you're looking for a fancy luxurious experience. Being barefoot is encouraged at this remote, four-acre magical little island, and we were so lucky to have visited during the "off season", as we almost had the entire place to ourselves. Because of the "all-inclusive-ness" of this place, you pay one lump sum before you arrive and never have to think about money again which is pretty genius [without the downsides of some all-inclusive experiences]. Every treat, meal, smoothie, cocktail, bottle of wine, massage, activity, boat trip, lesson, snack...is included.
Cloud 9 World famous surf break with waves for the very advanced and the very new [i surfed my first wave here]!
Motorbiking Rent for $8/day and explore the island. It's small, so you can see most of it in about an hour.